Audit, Non-conformity & CAPA Management Software Solution
Create electronic forms for any purpose, that are always available at the point of your audit.
Our checking platform is easily adapted to create all the forms you may need to use. Ensure that your staff always have the correct form and that they can access it quickly and easily. By using our conditional logic methodology you will be able capture the process and production information you need and monitor the outputs of aspects of your business easily.
Compliance & Product Auditing, CAPA & Non-conformance come together with mobile & desktop platforms.
Managing your audit programme for ISO, GRC, compliance & products can be very complex and time consuming. We simplify this process in ZEBSOFT by linking audit methods, communication, investigation & task allocation into one simple to use software platform with a fresh modern cloud-based interface.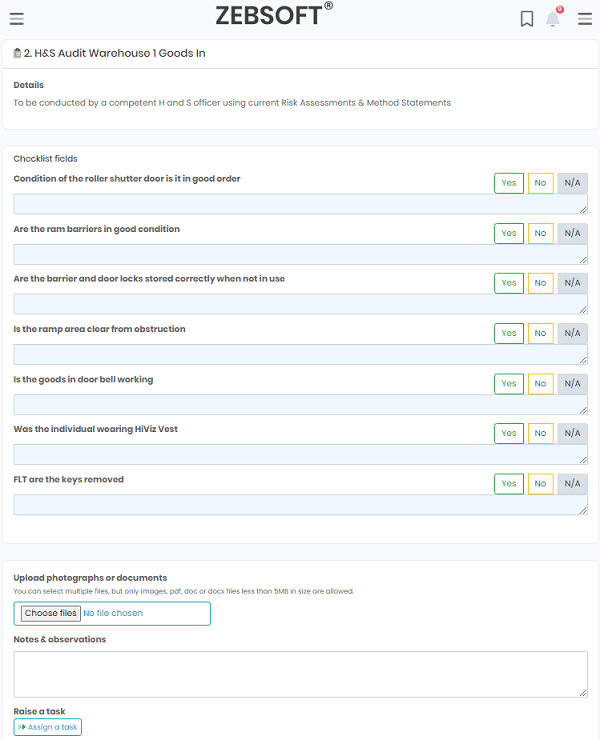 Frequent process and compliance auditing using mobile checklists:
Simple format for any user

Linked to system records for traceability

Receive valuable audit information instantly.

Create your own specific audit templates

Define an audit scoring mechanism to pass, warn or fail on a result

Simple to follow yes/no answering with scored audit results

Add audit detail when needed

Receive instant notification of the result of the audit

Dashboard audit reporting.
Professional QMS, ISO, process, compliance & product auditing and quality assurance using logical checklists:
Build comprehensive audit templates

Auditing is linked to system records for traceability

Conditional logic allows for enhanced audit information harvesting

Define an audit scoring mechanism to pass, warn or fail on a result

Simple to follow answering with scoring

Add audit detail when needed and photos to audit questions

Task generation linked to individual audit questions

Receive instant notification of the result of the audit

Dashboard audit reporting.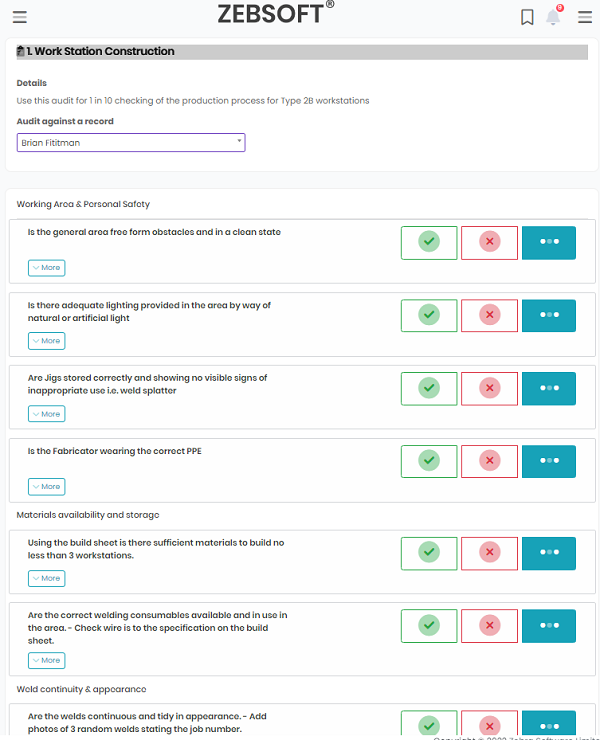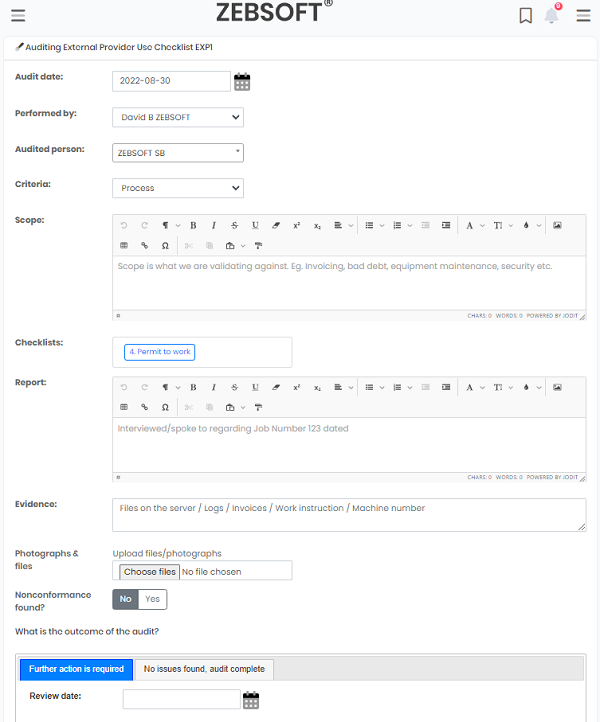 ISO, QMS, Compliance audit planning:
Configure custom ISO QMS & compliance audit templates and schedule QMS audits for specific dates, departments and auditors.
Use a table view to see which compliance audits have been planned, completed and missed, and those audits that are in need of review.
The audit schedule is broken down by department and activity audits, and can be further filtered by site.
Define the scope of the audit to be communicated to audit attendees in advance
Provides for ISO Audits that have to be conducted at planned intervals.
Professional reports with direct linking to CAP and non-conformity
ISO & Compliance audit reporting:
ISO QMS & Compliance Audits are automatically logged in an audit and non-conformance register.
Drill down into individual audit records to examine and update a range of audit information, including:

ISO & Compliance Audit scope
ISO & Compliance Audi report
Additional evidence
Attached images and documents
ISO & Compliance Non-conformances, root causes and corrective actions
Outcome (no issues found/further action required/opportunity for improvement)
Review date
Assigned tasks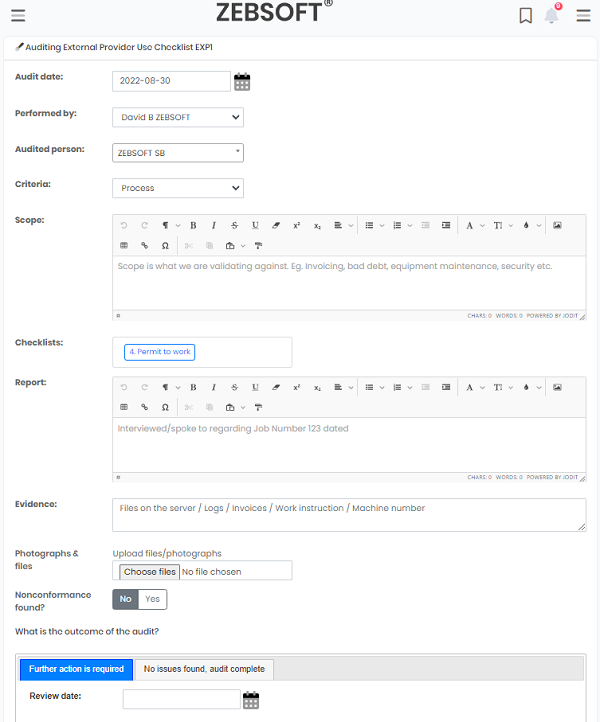 Raising CAPA & reporting ISO Non-Conformance:
Data within the audit CAPA and non-conformance register can be filtered, sorted and exported into CSV or Excel formats.

ISO & Compliance Non-conformance can be created within a planned audit

Direct raising of reactive non-conformance

Non-conformance fed by all users from feedback reporting

Checklist audits can be escalated to non-conformance

ISO & Compliance Non-conformances cannot be closed out until corrective actions (CAPA) are reviewed & effective
Comprehensive compliance auditing software with full corrective action control (CAPA) & quick audit with user defined templates ISO QMS Audit, GRC Audit, Compliance Audit, Product Audit.
A Perfect addition to any Quality Management System QMS
The purpose of ZEBSOFT Audit Management Software.
To create improvement in any area of a business it is essential to know that your activities are performing this how we manage risk and monitor the effectiveness of our processes and actions within our organisation. Audit Management Software provides a structured way to perform challenging and complex audits simply and efficiently.
The ZEBSOFT auditing platform plays a crucial role in making these improvements possible due to its multi-functional approach that seamlessly links basic checking to high-level compliance auditing and risk management. The platform offers fully customizable checklist forms, enhancing the efficiency and effectiveness of the audit process by allowing businesses to tailor the auditing procedures to their specific needs and requirements.
Moreover, ZEBSOFT applies background scoring to the checklist items, providing a data-driven evaluation of various aspects of the business over time. As audits are conducted and data is accumulated, the platform generates valuable insights into performance trends and areas that require improvement. This data-driven approach not only saves time but also facilitates a continuous improvement mindset.
The platform's integrated data collection and analysis capabilities allow for comprehensive data gathering and analysis across different aspects of the business. By centralizing data from various sources and processes, ZEBSOFT provides a holistic view of the organization's performance and potential risks, eliminating the need for manual data gathering and reconciliation.
ZEBSOFT's high-level compliance auditing and risk management features play a crucial role in identifying and prioritizing potential risks to the business. By providing actionable insights into risk areas, the platform empowers management to proactively address vulnerabilities and allocate resources more effectively.
Customizable reporting and interactive dashboards further streamline the improvement process by facilitating quicker decision-making and better communication of findings. Auditors and management can access real-time information in a user-friendly format, promoting effective collaboration and communication among different departments and stakeholders.
The platform's continuous improvement tracking capabilities enable businesses to measure the effectiveness of implemented changes over time. By tracking the progress of improvement initiatives, companies can make data-driven adjustments for ongoing enhancement.
Lastly, ZEBSOFT's scalability and adaptability ensure it can handle new challenges as the organization grows or undergoes changes, providing long-term support for improvement efforts.
In summary, the ZEBSOFT auditing platform's multi-functional approach empowers businesses to save time, optimize operations, address risks, and drive sustainable growth. By leveraging its customizable checklist forms, background scoring, integrated data analysis, risk assessment, customizable reporting, collaboration tools, continuous improvement tracking, and adaptability, ZEBSOFT enables organizations to conduct efficient and proactive audits, fostering a culture of continuous improvement and success.
The Benefits of ZEBSOFT Audit Management Software for quality management systems (QMS) and Integrated Management Systems (IMS)
Audit Management Software is the key to achieving more in the most efficient way. The current shift in management system auditing is that the internal audit process is now requiring Auditors to be proactive with risk management and to provide insights into achievement of compliance with regulation. Businesses are looking for solutions to make these tasks easier and more time-efficient to ensure the audit process is cost effective. The ability conduct the audit process quickly and effectively to a high standard will control and reduce the risk of non-compliance, spotting problems before they occur is the primary purpose of Audit Management Software and provides the ability to mitigate potential problems or issues, much quicker than outdated conventional approaches to auditing.
ZEBSOFT Audit Management Software supports all types of audits in your organisation and allows you to control how you would like that information delivered to and viewed by staff and management.
All aspects of auditing become automated for efficiency and productivity. You will create checklists that can be used on mobile devices to reduce the amount of paperwork associated with the checking process. Checklists can easily be printed off to ensure that your off-line record-keeping meets regulation.
ZEBSOST Auditing Management Software can provide tasking for the completion of audits at any time of the day or night and with any stipulated frequency. Audits can be scheduled across departments/sites. teams and multiples of individuals simultaneously using the same audit checklist without conflict.
ZEBSOST Auditing Management Software reminds the QMS/IMS auditors and auditees prior to the compliance audit, product audit, quality QMS audit . ZEBSOFT keeps auditors up to date automatically with email and system notifications. System auditors are provided full audit planning capabilities ensuring the audit program structure is maintained. The audit software allows your auditors to make amendments to the QMS auditing program to accommodate the fluidity required in the working environment as issues arise when the audit plan is in progress.
The ZEBSOST Audit Management software will never forget, the days of missing QMS audits will be gone from your organisation, audit results are available instantly to QMS auditors and mangers alike. QMS/IMS audit results can be compared over time so that you will achieve the best possible outcome from your auditing activities
ZEBSOST Auditing Management software is linked to tasks at all levels this ensures that not only the results of the auditing are communicated but also that the outputs from the QMS audit process are managed effectively and reported back to the auditor, stating the necessary actions required to remain compliant. The auditing software will track and notify when these tasks have been completed.
ZEBSOST QMS/IMS Auditing Management software will take your auditing to new levels, checklist audits will feed to audit tasks, product audits will feed compliance audits, the QMS audit results will feed to CAPA, non conformity and continuous improvement.
Auditing using checklists and formal audit programs is important to businesses for several reasons:
1. Consistency: Checklists and formal audit programs provide a structured and standardized approach to auditing. They ensure that all relevant areas are examined consistently, reducing the risk of oversight or inconsistency in the audit process.
2. Compliance: Many industries have specific regulatory requirements that businesses must adhere to. Using checklists and formal audit programs helps ensure that the business is compliant with these regulations and industry standards.
3. Comprehensive coverage: Auditing checklists and programs are designed to cover all critical aspects of a business's operations, finances, and processes. This comprehensive coverage ensures that no important area is overlooked during the audit.
4. Efficiency: Having predefined checklists and audit programs streamlines the auditing process. It saves time by providing auditors with a clear roadmap of what needs to be assessed, making the process more efficient.
5. Documentation: Checklists and formal audit programs serve as documentation of the audit process. They provide evidence of the audit's scope, procedures, and findings, which is essential for internal use, external compliance, and future reference.
6. Risk identification and mitigation: Auditing using checklists and formal programs allows businesses to identify potential risks and weaknesses in their processes and controls. This early identification enables the business to take corrective actions to mitigate these risks before they escalate into significant issues.
7. Objective assessment: Checklists and formal audit programs promote objectivity in the audit process. Auditors follow predefined criteria, reducing the influence of personal biases and ensuring a fair and unbiased evaluation of the business's performance.
8. Continuous improvement: Regular audits with checklists and formal programs help businesses monitor their performance over time. The findings can be used to implement continuous improvement initiatives, enhancing the overall efficiency and effectiveness of the organization.
9. Accountability and transparency: The use of checklists and formal audit programs creates a transparent and accountable audit process. It allows stakeholders, including management, investors, and regulatory authorities, to understand the audit scope and the basis for the conclusions reached.
Using checklists and formal audit programs enhances the credibility of the audit process, provides valuable insights into the business's operations, and assists in maintaining compliance and good governance practices.
Zebra Software Limited
Head office: Booths Hall, Booths Park, Knutsford, Cheshire, WA16 8GS.
Registered office:

Riverside, Mountbatten Way, Congleton CW12 1DY, United Kingdom

Registered in England and Wales 11901161
ICO number A8778081