A Management System your people understand
Roles responsibilities & authorities:
Recreate organisational structure using user roles. Role records include:


Who the role reports to

Data access/authorisation level

Place of work

Key skills

Descriptions of other competencies

Assign different users different administration privileges, from basic user to superadmin.

Track and manage employee training, competencies, licences and certificates. and search for specific skillsets across specific roles.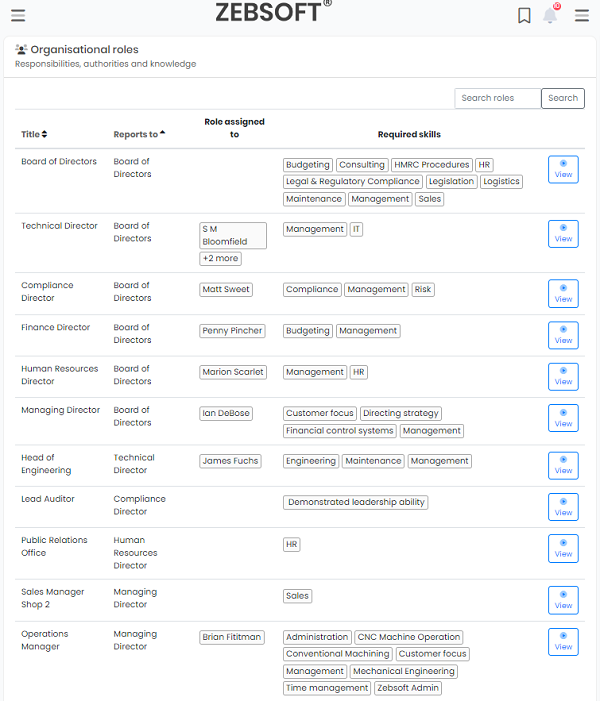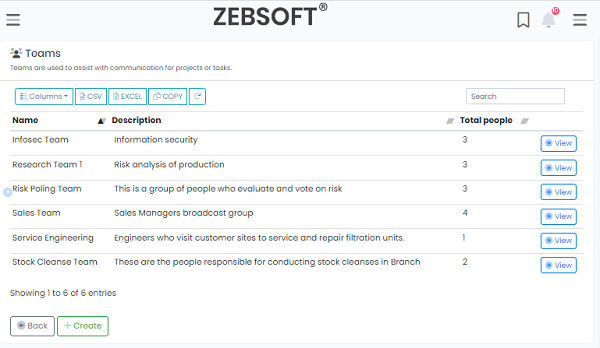 Utilising teams management:
Create teams across the organisation regardless of location.
Allocate team responsibility for tasks
Add and remove team members with affecting team actions
Conducting skills analysis:
PDF downloads are automatically recorded as events within Zebsoft.
Downloaded PDFs include:

Timestamp of the download
Effective date
Review date
Person responsible for the document
Document version number
An "uncontrolled document" statement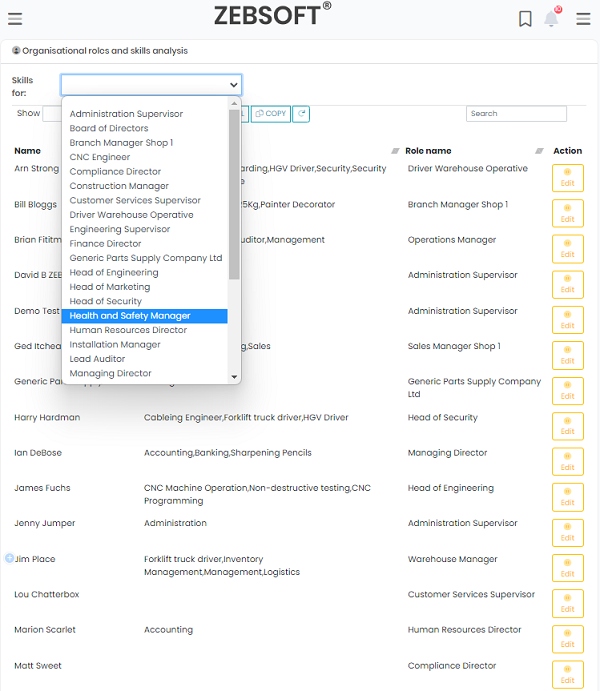 Title: Integrating GRC Principles into Job Roles and Task Management with ZEBSOFT
In the dynamic landscape of modern business, effective Governance, Risk Management, and Compliance (GRC) practices have emerged as essential pillars for organisational success. ZEBSOFT, a leading cloud-based GRC platform, goes beyond the conventional approach by seamlessly integrating GRC principles into job roles and task management. Let's explore how ZEBSOFT communicates and reinforces GRC education through these crucial elements.
Defining Job Roles with GRC Responsibilities:
At the core of ZEBSOFT's approach is the recognition that every employee contributes to the organisation's GRC framework. Here's how ZEBSOFT's platform facilitates GRC understanding through well-defined job roles:
Tailored GRC Responsibilities:
ZEBSOFT ensures that job roles encompass explicit GRC responsibilities that align with the organisation's objectives. This ensures that employees comprehend their role in maintaining governance, managing risks, and upholding compliance standards.
Role-Specific Training:
ZEBSOFT's platform offers specialised training modules tailored to each job role. This targeted approach equips employees with role-relevant GRC education, enabling them to apply GRC principles effectively.
Transparent Expectations:
By clearly outlining GRC expectations within each job role, ZEBSOFT promotes transparency. Employees gain a comprehensive understanding of ethical behavior, risk management, and compliance requirements linked to their specific responsibilities.
Seamless Integration into Task Management:
GRC principles extend beyond theory into practice. ZEBSOFT's platform seamlessly integrates GRC considerations into task management, empowering employees to incorporate GRC into their everyday activities:
Holistic Task Approach:
ZEBSOFT prompts employees to factor in relevant risks, compliance requirements, and governance implications when setting up tasks or projects. This holistic approach ensures that GRC is integrated from the outset.
Risk Identification:
The platform encourages critical thinking by assisting employees in identifying potential risks associated with specific tasks. This proactive approach supports the inclusion of risk mitigation strategies.
Guided Compliance:
ZEBSOFT's task management includes compliance checkpoints, guiding employees through the maze of regulations. This feature ensures that tasks are aligned with legal and regulatory standards, reducing compliance-related uncertainties.
Documenting GRC Application:
As tasks are completed, ZEBSOFT captures GRC-related information through documentation features. This documentation not only fosters accountability but also serves as a record of GRC integration in various tasks.
Reporting for Accountability:
ZEBSOFT's reporting capabilities offer a transparent view of how GRC principles were infused into tasks. This accountability mechanism encourages employees to prioritise GRC considerations in their work.
ZEBSOFT's innovative approach, which seamlessly weaves GRC education into job roles and task management, shapes a culture of responsibility, accountability, and ethical behaviour across the organisation. By enabling employees to understand and apply GRC principles in their everyday tasks, ZEBSOFT empowers businesses to thrive in a complex business landscape while maintaining their commitment to governance, risk management, and compliance.
Zebra Software Limited
Head office: Booths Hall, Booths Park, Knutsford, Cheshire, WA16 8GS.
Registered office:

Riverside, Mountbatten Way, Congleton CW12 1DY, United Kingdom

Registered in England and Wales 11901161
ICO number A8778081