Creators of innovative SaaS software
The Power of Utilising a Generic Methodology , that solves the issues related to compliance and ISO Standards management
"ZEBSOFT, is an innovation destined to become an indispensable asset to your organization. Envision a world where a sophisticated, cloud-based, integrated compliance management system is at your fingertips—operational around the clock, accessible to every member of your team, irrespective of their location across the globe. Intrigued? You should be.
ZEBSOFT is not just a tool; it's a revolution, seamlessly amalgamating the intricate facets of compliance management. It's meticulously engineered, drawing inspiration from the esteemed ISO's generic methodology. The result? A system where complexity bows to simplicity, where challenges transform into solutions.
Delve into a realm where you wield absolute control over your documents, fortified by a robust multi-level approval process and user signing. When it comes to audit planning, ZEBSOFT transcends conventional boundaries. It simplifies, communicates, and reports with unparalleled precision, ensuring alignment with ISO standards.
Navigate the often tumultuous waters of legal and regulatory compliance with confidence. ZEBSOFT stands as your unwavering ally, a beacon illuminating the path of compliance, ensuring each step you take resonates with legal harmony. Incident management is not left behind. Every incident, from inception to resolution, is addressed with intuitive, user-friendly interfaces, ensuring efficiency and effectiveness.
And there's an abundance of more! ZEBSOFT empowers you to customize checklists and forms. Your team is endowed with the tools to provide incisive feedback, an interactive dialogue that fosters organizational growth and development. The risk management suite is a masterpiece, offering a panoramic view of organisational risks, painting a comprehensive picture that informs strategic decision-making.
For the eco-conscious, ZEBSOFT is a cherished companion. Define, analyse, and mitigate environmental aspects and impacts. The journey to a greener, sustainable future is not a solitary one—with ZEBSOFT, every step is a collaborative dance of innovation and conservation. COSHH/GHS records are seamlessly integrated, a repository of critical information ensuring safety and compliance.
In the magnificent world of ZEBSOFT, you're the esteemed conductor, orchestrating a symphony of management systems with grace and dexterity. The era of disjointed, isolated controls is a relic of the past. Welcome to an age where quality, health safety, environmental conservation, information security, data protection, business continuity planning, and testing converge, unified under a single, digital masterpiece.
Flexibility isn't just an attribute; it's the essence of ZEBSOFT. Engage with a platform that's inherently adaptable, where customisation is not an addition but a fundamental characteristic. Whether you seek to employ elements of ZEBSOFT or immerse in its entirety, every interaction is marked by simplicity, efficiency, and elegance—a testament to the ZEBSOFT way.
Business Management Information System.
The need for management information increases as the requirements of legislation and regulation try to keep up with the complex and rapid pace of change across all business sectors.
Over 10 years ago we took a close look at the methods used to control compliance and the evidence required to prove those requirements are met.
What we found was that systems existed that were mainly templated and straight copies of other systems, leading us to the conclusion that traditional management systems did little to help or communicate compliance needs.
It is very hard to create a system that forms part of the day-to-day business activities. It is even harder to create a method of control that whilst being as infallible as possible remains easy for a user to follow and use.
We identified that administrative management systems were commonly isolated from the rest of the business practices, and only touched the business at a time of need. Invariably, most people in the organisation would be unaware that a management system existed.
The solution: Create a system that is visible, clear, holistic & communicated to everyone, resulting in the sharing of knowledge & experience for the benefit of the organisation.
ISO Compliance Management System.
ZEBSOFT offers a range of powerful benefits that can make a significant positive impact on your business. Let's discuss what they can do for you:
Firstly, ZEBSOFT ensures a streamlined ISO certification process, saving you valuable time and resources. Achieving ISO certification enhances your company's reputation, boosts customer confidence, and opens up new business opportunities.
Secondly, our platform improves standards management by consolidating all ISO standards in one place. This ensures consistency in compliance efforts, reduces redundancies, and enhances overall operational efficiency.
Next, being audit-ready at all times gives you the confidence to face external audits smoothly. This reduces stress and builds trust with customers and stakeholders, knowing you meet regulatory requirements.
Moreover, ZEBSOFT's risk management capabilities enable proactive identification and mitigation of risks. This approach prevents potential disruptions, enhances safety, and safeguards your company's reputation.
Additionally, adopting ISO 22301 for business continuity management ensures you're well-prepared for unexpected disruptions. Having a robust continuity plan allows for quicker recovery, minimal downtime, and maintains customer trust.
Furthermore, implementing ISO 27001 enhances your information security, protecting sensitive data from breaches and cyberattacks. This fosters increased customer trust and ensures compliance with regulations.
Lastly, ZEBSOFT provides expert consulting and implementation support during the ISO adoption process. This assistance ensures smoother implementation, fewer mistakes, and accelerates your journey towards certification.
In conclusion, ZEBSOFT empowers your business to become more efficient, compliant, and competitive. Meeting international standards, enhancing operational capabilities, and demonstrating a commitment to quality, safety, and data security positively impact your reputation, customer loyalty, and long-term sustainability.
System Development
When solutions are needed looking outside of the established norm creates the opportunity to bring about significant improvement.
Starting with a foundation control system that has been successfully used in businesses for over 10 years the development started. Working with many existing business clients, we implemented ZEBSOFT into their businesses to provide a live development environment. The advantage this has given us over our competition is that we developed with real information and real problems.
We have relationships with businesses across many sectors, this gave us insight into the specifics of the multitude of customer needs.
Our founders have many years experience at C level in businesses across multiple sectors including, finance & telecommunications. Our Chief Innovation Officer is a certified & practicing ISO lead auditor in 7 standards. In short we have the knowledge & understanding of stakeholder needs, together with the specific needs of regulators & how those needs are met.
By putting together the elements of understanding gained from;
the users perspective of system interaction & understanding.

the stakeholders business benefit & return on investment

the regulators access to visible evidence of a communicative approach to compliance.
ZEBSOFT is a tried & proven system that has track record in the compliance sector. Our system is appreciated by stakeholders, regulators & users alike.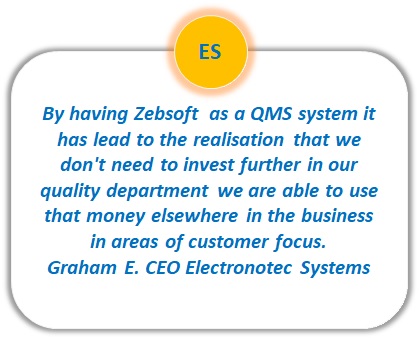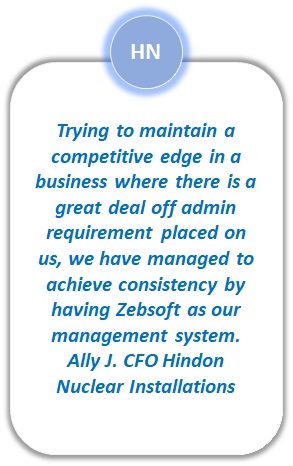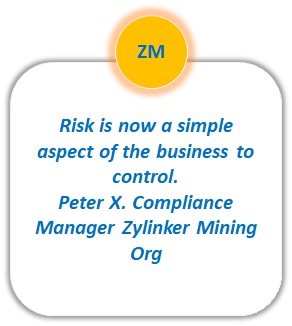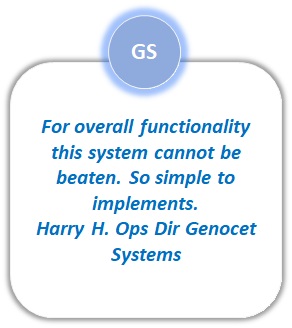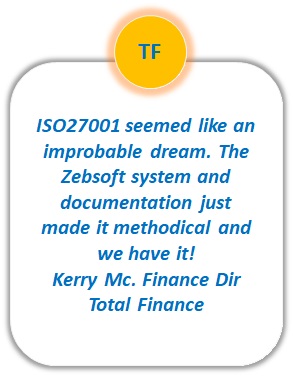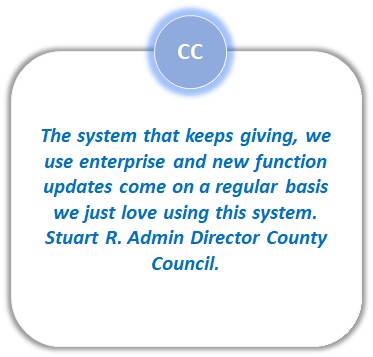 Our Customers
We have a diverse range of customers from Engineering companies who operate in Aerospace, Automotive, & Nuclear. Local government entities, Charities, Chemical & Pharmaceutical, Logistic & Shipping, Security & Alarm Receiving & CCTV Monitoring Centres.
Our customers span the globe including the UK, the USA, Germany, Switzerland, France, Canada, Mexico, Puerto Rico, Saudi Arabia, Nigeria, Equatorial Guinea, Cameroon, Australia.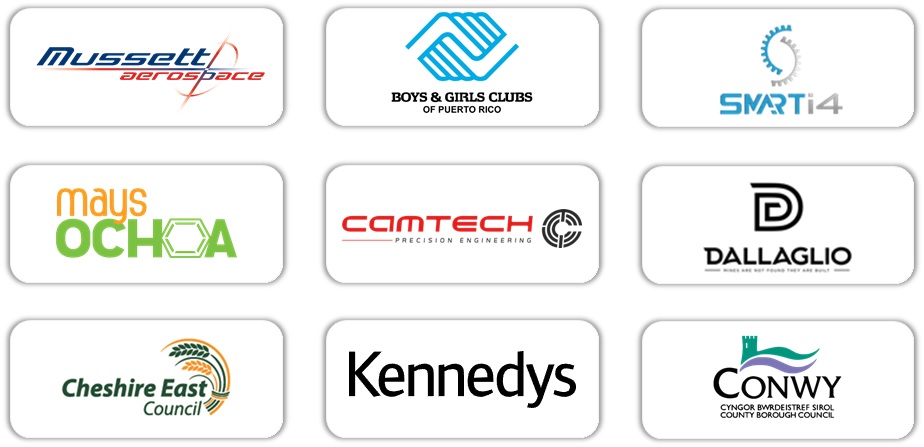 Trading address: Zebra Software Limited, Booths Hall, Booths Park, Chelford Road, Knutsford, Cheshire, WA16 8GS, United Kingdom
Registered office: Riverside, Mountbatten Way, Congleton CW12 1DY, United Kingdom
Registered in England and Wales 11901161
ICO number A8778081
Awards & certifications
International standard for information security management

Approved UK Government supplier on the digital marketplace

Tiger Scheme Certified

Independent security assessment & penetration testing

International Quality Management System (QMS) standard
Policies
is intended for SME businesses who wish to control compliance in general, or control their ISO Standards System. It is built on an ISO Annex L foundation making the linking of ISO standards with business principles understandable.
can be used by any business for enhanced functionality though it is designed for large business to monitor, evaluate and act on user driven data sources giving a 360 degree view of risk management needs.
User Focused
The concept & development of the system has been from a three sided approach; the users ability to easily control compliance at the same time as creating real improvement in the business, thus enhancing customer satisfaction. The organisations ability to easily gather data & globally control multiple sites across the same platform. The provision of GRC compliance evidence when needed for customers, third parties & regulators.
Our insight & specific experience from all sides has resulted in comprehensive functionality & the most simple interface possible.
Experienced
At senior level we are driven by our Directors David Bowman (CIO) & Steven Bloomfield (CTO) who founded the business and created the ZEBSOFT platform, both of whom have over 25 years senior management experience, within SME and Blue Chip Businesses. Their Industry experience includes, web development, telecommunications, manufacturing & distribution, commercial & retail lending.
David is a Business Management graduate of The University of Staffordshire he holds 7 IRCA Lead Auditor certifications & IFS is Level 3 Certified.
Steven is an IT graduate from Sheffield Hallam University, a Chartered IT Professional and a member of the IEEE.